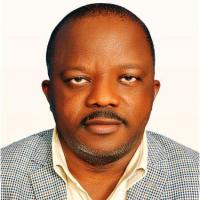 Dr. Gorbee Gabriel Logan is a Liberian, a Christian, and was born April 10, 1975. His parents (Liberian) are deceased, but have 5 biological brothers and 2 sisters alive.
In 1989 and 1994, he completed his primary and secondary education at Ricks Institute (Virginia, Monrovia) and Monrovia College High school (Clay street, Monrovia), respectively. Dr. Logan then enrolled at the University of Liberia (UL) in 1995 where he did his undergraduate degree (BSc.) in Biology (2001) and also completed his Doctor of Medicine degree at the UL, in 2009.
He is married and blessed with 3 living children (2 boys and 1 girl). Dr. Logan is a Lecturer (16 years) in the department of Biology (UL), has practiced clinical medicine including health system management for 9 years and served in the positions of hospital Medical Director and County Health Officer, Ministry of Health, Republic of Liberia.
In September 2017, he enrolled at the University of Nairobi/Kenya - Postgraduate Masters of Public Health (MPH) program and completed same in February 2020. He also acquired several advanced certificates (M&E/Project management/leadership and Management) from Kenya (Amref, 2016) and the USA (UOW, 2019). Currently, he is an Assistant Minister of Health for Curative Service, Ministry of Health, Republic of Liberia.
He became known worldwide for his innovation in the fight against Ebola (West Africa, 2014/2015) by using HIV-related drug to treat EVD and got survivors. He has travelled to several African countries including Europe and the United States of America.
DETERMINANTS OF PREECLAMPSIA AND ECLAMPSIA AMONG WOMEN DELIVERING IN COUNTY HOSPITALS IN NAIROBI, KENYA
ABSTRACT
Background: Preeclampsia is defined as the onset of a new episode of high blood pressure in a woman usually after 20 weeks gestation plus proteinuria, whereas eclampsia, is defined as generalized seizures in a pregnant woman who generally has preeclampsia criteria. Preeclampsia and eclampsia are hypertensive disorders of pregnancy and among the top causes of maternal death worldwide. The objective of this study was to investigate risk factors for preeclampsia/eclampsia.
Methods: A hospital-based unmatched case-control study carried out among women of reproductive age (15-49 years) who have given birth at Nairobi County Hospitals and admitted to the postnatal ward July-September, 2019 with a sample size of 352 participants (88 cases and 264 controls). All cases were selected, while controls were simple random sampled, as per eligibility criteria. Data were gathered using a structured interviewer-administered questionnaire and data abstraction tool. Data were analyzed using Stata 14. Descriptive analysis followed by bivariable and multivariable mixed-effect logistic regression analyses were carried out.
Results: 88 cases enrolled in the study; 5 (5.68%) had eclampsia and 83 (94.32%) had preeclampsia. There was a significant association between personal history of hypertension (AOR=7.1; 95% CI: 2.6-19.3, p=0.001), Occupation as housewife (AOR=3.1; 95% CI: 1.1-8.8, p=0.034), nulliparity (AOR=7.5; 95% CI: 1.5-37.5, p=0.015) ,  primiparity (AOR=2.1; 95% CI: 1.1-4.2, p=0.031), advanced maternal age 35-49 years (AOR=5.9; 95% CI: 1.1-33.3, p=0.042), and the occurrence of preeclampsia/eclampsia. Conclusion: Personal history of hypertension, advanced maternal age, occupation, and parity were factors significantly associated with preeclampsia/ eclampsia.
Keywords: Preeclampsia, Eclampsia, and Determinants.
Research Supervisors
Dr. Peter Njoroge, MBChB; MPH

Mr. Lambert Nyabola, BSc; MSc; SM